GENERAL INFO

Visa requirements

Information about visa regime between the Republic of Croatia and all other countries is available at http://www.mvep.hr/en/consular-information/visas/visa-requirements-overview/


Sponsorship

Limited sponsorship for lodging and travel cost will be available upon request. Please register the link Registration and indicate in your registration if you require sponsorship for either lodging, travel or both.


Currency and Banking

The official currency in Hungary is Croatian Kuna (1 EUR ?7.4 HRK, 1 USD ? 6 HRK). General exchange rate list is available at https://www.hnb.hr/en/core-functions/monetary-policy/exchange-rate-list/exchange-rate-list. Foreign currencyexchange is available at most banks and exchange offices throughout the city. International credit cards are accepted for payment in hotels, restaurants and shops.


Tourist info and shopping

General info about Zagreb history, places, attractions, restaurants and shopping is available at http://www.infozagreb.hr/


Electricity
Voltage: 220-240 Volts (U.S./ Canada are 110-120 Volts).
Primary Socket Type: Europlug, Schuko
Multi-voltage appliances (laptops, etc.): Plug adapter
110-120V electronics: Plug adapter + step-down transformer
Hair dryers, curling irons, etc.: Plug adapter + voltage converter

Liability and Insurance

The organizers do not accept responsibility for individual medical, travel or personal insurance and all participants are strongly advised to take out their personal insurance before travelling to the workshop.


Traveling to Zagreb

By plane:

Zagreb international airport is connected with the all major European airports http://www.zagreb-airport.hr/en

There are three means of transportation from the airport to the centre of the City. The scheduled airport shuttle "Plesoprijevoz" is operating between the Airport and the Zagreb Central Bus Terminal (approx. 30 min). All additional information regarding the airport shuttle timetable, prices and tickets you can find on website http://www.plesoprijevoz.hr/en/page/timetable. One way ticket costs 30 HRK (4 EUR, 5 USD).

The prices ofa taxifrom the airport to the city centre are approx. 250 HRK (34 EUR, 42 USD). From the airport to the city centre by taxi takes 20-30 min.

There is also option of public transport (ZET blue bus, Line 290, Direction Kvaternikovtrg). The bus station is on the opposite side of the main road, 150 m from the airport entrance. Departures are scheduled every 35 minutes and the price of the ticket is 8 HRK (1.1 EUR, 1.2 USD). http://www.zagreb-airport.hr/en/passengers/to-from-the-airport/by-zet-bus/431


By train:

Information about destinations, schedules, tickets and prices to Zagreb main railway station is provided on website https://prodaja.hzpp.hr/en


By bus:

Information about destinations, schedules, tickets and prices to Zagreb CentralBusTerminal is provided on website http://www.akz.hr/


By car:

Zagreb is well connected by dense motorway network with all neighbouring countries: Slovenia, Hungary, Serbia and Bosnia & Herzegovina. Information of motorway conditions, toll calculation, resting stops etc. is available at http://hac.hr/en?language=en


Parking in Zagreb

For those, arriving by car, it is recommended to avoid parking in the city centre where parking time limit is usually only 2 hours and traffic is very dense.

Except in one of the public garages, the car can be left without time limit at public parking (Koturaška street on map) for 10 HRK per day. Otherwise the public garage in GrguraNinskog St. (5 HRK per hour) is recommended as a closest to the venues. The parking spots are well connected by tram network to the meeting venues, about 15-20 min walking distance.





Public transport in Zagreb

The city centre is connected by the tram network, ZET (Zagrebačkielektričnitramvaj). The one-way ticket, that lasts 30 min, costs 4 HRK (0.5 EUR, 0.7 USD) and can be purchased on kiosks or by tram drivers. The map of tram lines can be downloaded from http://www.hzdp.hr/zg_tram_network.pdf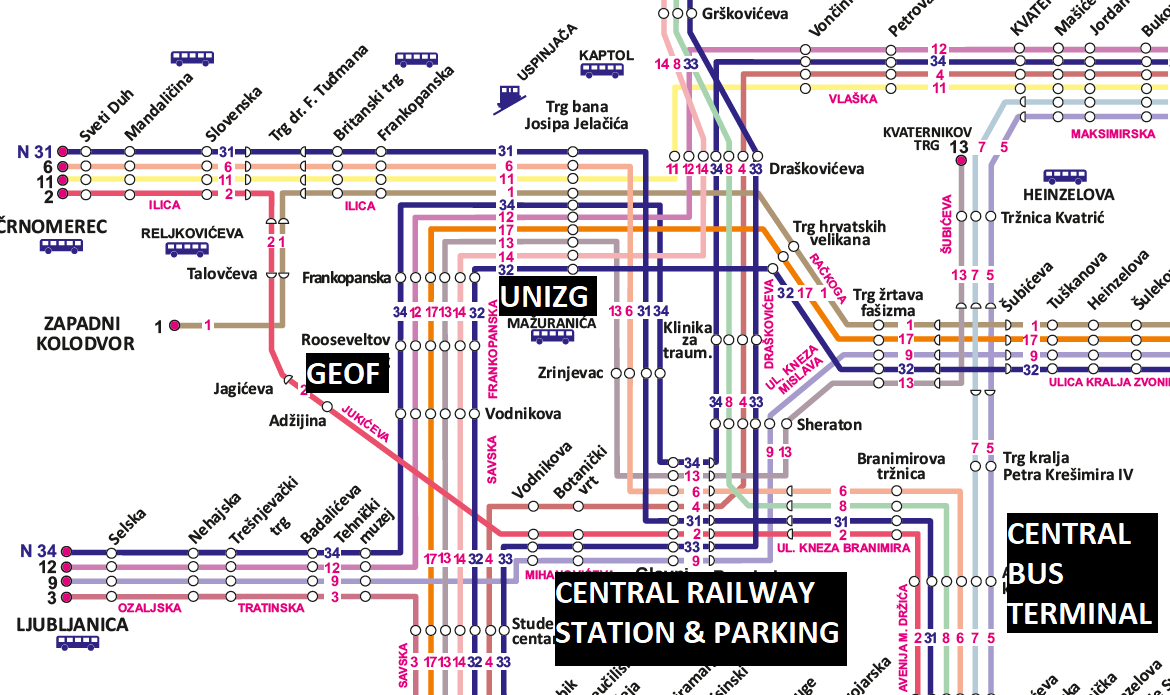 Tram lines to UNIZG
From the Central Railway Station: tram No 13 (4 stations via Trg Bana JosipaJelačića, the main city square)
From the Central Bus Terminal: tram No 6 (transfer to Trg Bana JosipaJelačića) then tram No 12 (Roosveltovtrg)


Tram lines to GEOF
From the Central Railway Station: tram No 13 (4 stations via Trg Bana JosipaJelačića, the main city square to Roosveltovtrg)
From the Central Railway Station:tram No 2 (3 stations to the tram station Jukićeva) From the Central Bus Terminal: tram No 6 (to Trg Bana JosipaJelačića) then tram No 12or No 13 (Roosveltovtrg)


Useful Telephone Numbers
Emergency calls, police, ambulance: 112
Taxi: Cammeotel:+38511212
Radio taxi Zagreb tel:+38511717